Once you have powered on the virtual appliance and opened the console in a new window, you will see a welcome message with the following login details:
Username: admin
Password: admin
1. Please type the default credentials in the login field, then press the Enter key
2. The system will start running and ask you to:
enter the preferred hostname, e.g. loginenterprise
enter the preferred domain, e.g. demo.lab
choose the network configuration mode: DHCP (D) or Static (s)
3. If you select DHCP, the next step is to create a new password for the admin user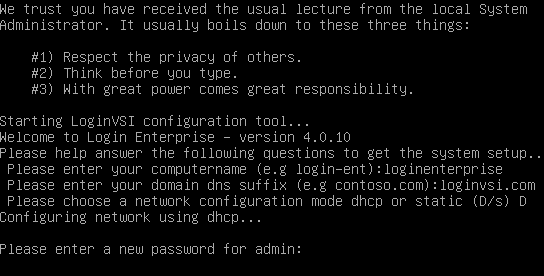 If you select Static, the system will ask you to:

provide a new IP address
provide the netmask
provide the default gateway
provide the nameservers
provide the DNS search suffix
create and confirm a new password for the admin username
4. The system will update the password and then continue running, and after a short amount of time, it will ask you to log in with the admin username and the password you set previously
5. Once you have logged in, the system will start running the Login VSI daemon and restart the appliance
6. After a few minutes, you will see a welcome message stating that the appliance has been configured along with the following important information:
Web interface: IP based URL and FQDN URL
Important: Please create an A host record to access the FQDN URL.
You have successfully configured the Login Enterprise virtual appliance! Next step, accessing the maintenance menu.