Note: The users needs to be created in Active Directory by an AD administrator. Login Enterprise does not create the users automatically for you.
Note: Account groups are required for all types of tests (Continuous, Load and Application test environments). Read below on how to create Account groups.
Active Directory
All users Login Enterprise uses need to exist in the AD prior to the virtual user configuration in Login Enterprise. We recommend creating the users using a name and 4 numbers behind them like this:
LoginEnt0001
LoginEnt0002
LoginEnt0003
LoginEnt0004
etc..
Login Enterprise users should be created using the principle of least privilege. Meaning that test accounts should be given minimum levels of access/permissions required to perform the tasks.
Login Enterprise
This section we will have a look at how to add the virtual user and creating groups, that Login Enterprise will use to measure the various activities you configured in the Manage Tests section.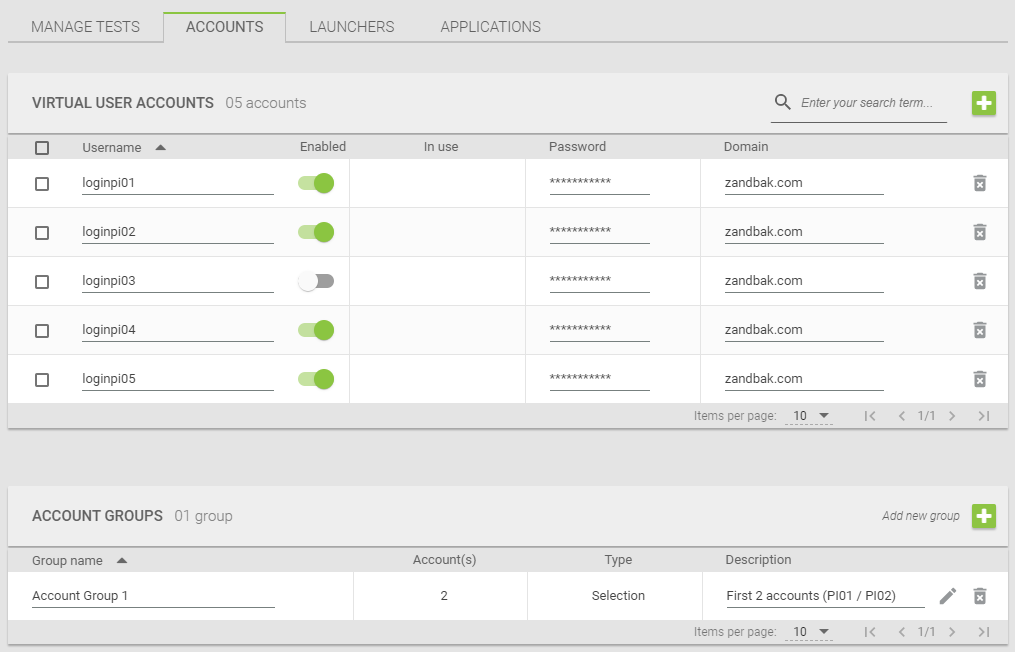 Virtual User Accounts
Click the Add new account button
Enter the username of your choice
Enter the password of your choice
Specify the domain of the user account
Click Save

This will create a single user account. Note that there is also an option to create multiple accounts at once. You can use the "Bulk Accounts" option for that.
The following options will be added
Number of digits

This will be the incremental number (eg. 01,001)

Number of accounts

This will be the amount of accounts that will be created.
There will be an example username generated based on the information you filled in. You can see this in the bottom left corner of the configuration screen.

Account Groups
With the user groups you can give particular users access to particular environments. You can choose between a filter and a selection. The difference between these two is that the selection option lets you choose accounts, the filter selection will use all accounts that match a specific filter.
To create a group follow these steps:
Click the Add new group button.
Choose either the filter or selection option
Enter a group name of your choice
Enter a description of your choice (optional)
Click the Add user account button
Select the user account(s) to add to the user group
Click Add
Click Save
When using a filter group there are two wildcards available. these are "?" and "*". The screenshot below serves as an example.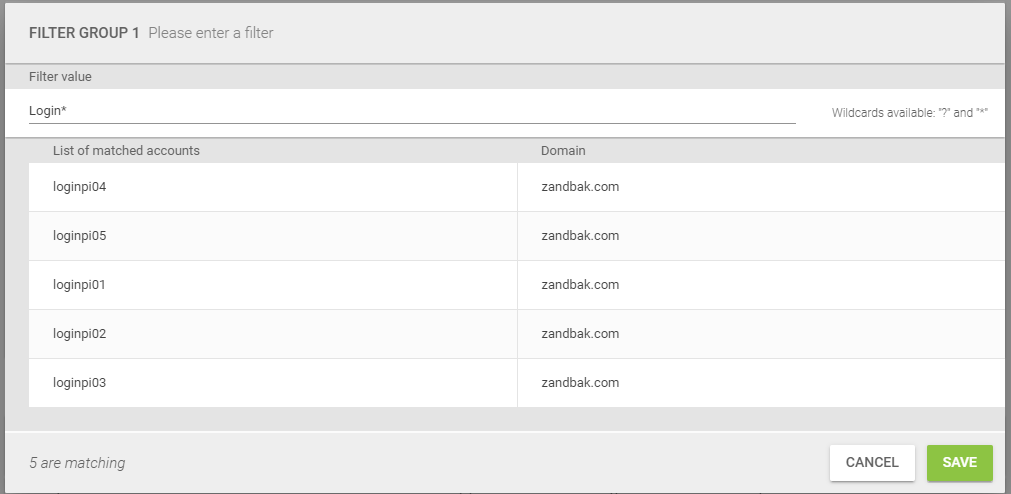 How to add a Group to an environment:
Go to the environment page.
Edit the environment where you want to have the user group or attached to.
If you click on account you will see the groups that you just created.
Select the group.
Click Update.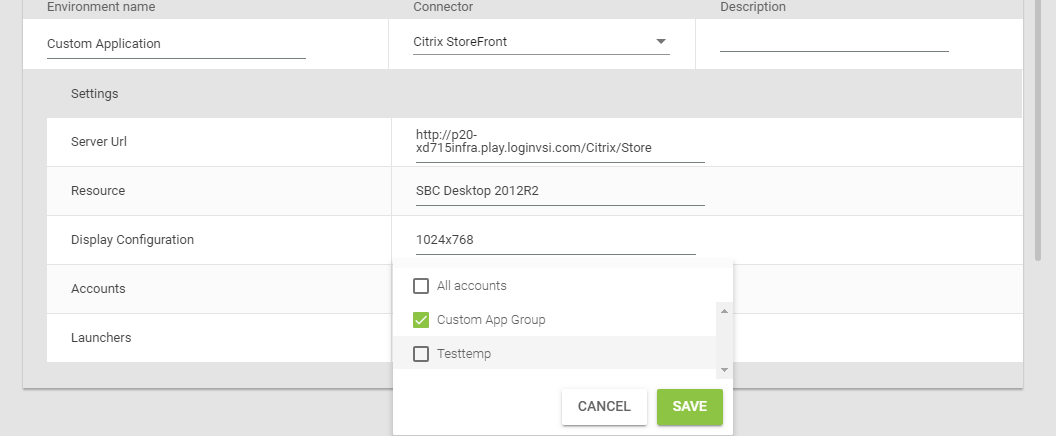 Logon Components
The Logon Components are crucial to the functionality of Login Enterprise. This part makes sure the software starts as soon as the users logs in. More very important information about this can be found on our Logon Components page.