This feature allows users to update the web automation drivers (selenium) via the Login Enterprise web application UI. Previously, users would need to wait for a Login Enterprise update which included the latest drivers or upload them manually. Users can now navigate to the System page to enable automatic updates or manually check for them. (Home > System > Web Automation Drivers (Selenium))
Note: This feature is only available to appliances with connection to the internet. Offline users will still need to perform this update manually.
Enabling Auto-Updates
To enable auto-updates of the Web Automation drivers, simply click the toggle switch to green. The appliance will check for driver updates daily at midnight, and when a new version of a driver is available, download it.

Manually Checking for Updates
Users can click the "Check for Updates" button to manually check for newer drivers. When there are no updated drivers available, you will receive an "up to date" notification, listing each major browser (Chrome, Edge, Firefox) with their respective web automation driver (selenium) version(s).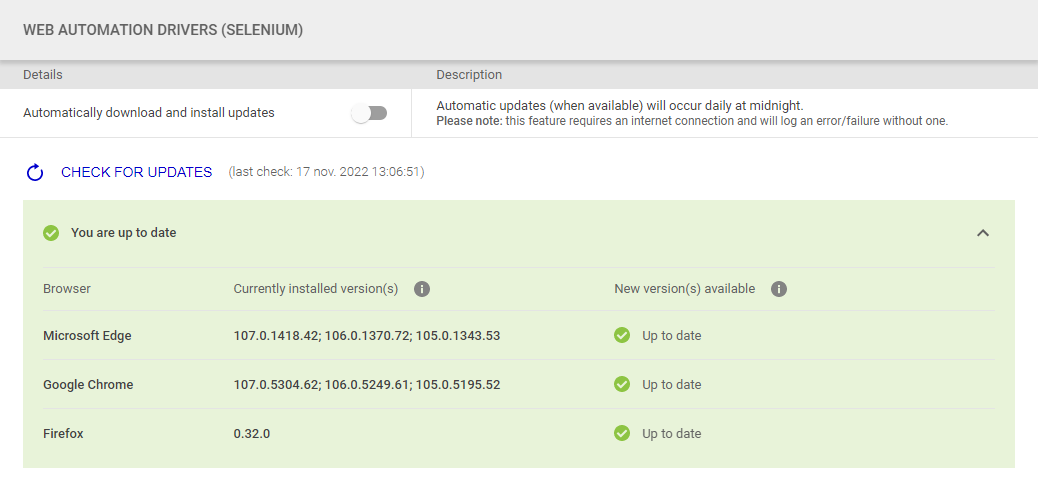 When there are updates available, you will see a "New update is available" message, indicating which drivers need to be updated. Click "Update Now" to perform the update. A loading spinner will appear while the download and update is in progress.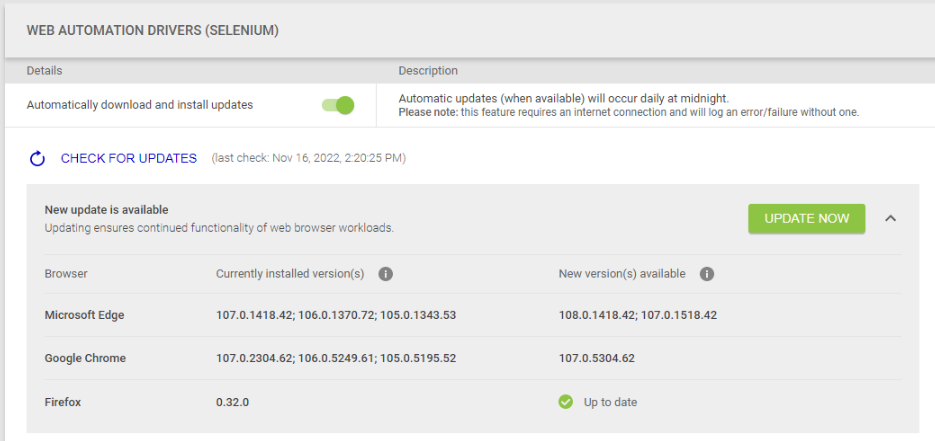 Please note the following:
By default, automatic downloads are disabled
Driver updates are only available if the appliance is connected to the internet
For Chrome and Edge, updates for minor versions are done across the latest 3 major versions

Updating to a newer minor version overwrites the previous minor version, such that there will be a maximum of 1 minor version stored per major version

For Firefox, only the latest ESR version is supported

A maximum of 1 minor version of the latest major version is stored

Updating to a new major version will not delete previous major versions, but the UI will only list the latest 3 installed versions