Updating Debian
With the release of Login Enterprise 4.7 we recommend to update your Debian version to 10. This article will explain how to do this.
Note: This only applies to Login Enterprise appliances that have been upgrade to 4.7 from 4.6 or lower. New installations using 4.7 and higher will have Debian 10 already installed.
Note: Older versions 4.6 and lower, do not have the ability to update to Debian 10.
Verification
To check if you need to upgrade to Debian 10 please open an SSH or console connection to your appliance and log in to the console.
At the top of the screen you can see a message stating "System Update Required!"

If you do not see this, no update is required.
Online update (Strongly Recommended)
When your appliance is connected to the internet the update sequence is very simple and straightforward. Simply go to the Updates section on your appliance console and select the "System update from the internet" option.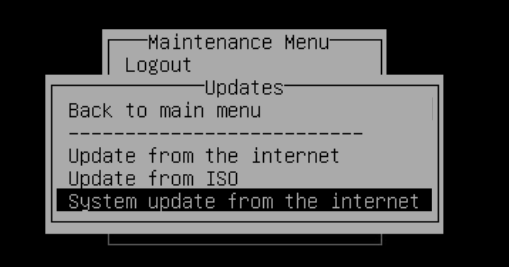 When initiated your are asked for verification of the update.

Once the update is initiated Debian will start downloading the necessary to complete the update. This process can take about 10 minutes depending on internet speed and hardware.
When the update process is completed you are asked to press enter.
When you log-out and log in to the console again you can see that the message at the top of the screen is gone.
Offline update
With the release of 4.7.6 you can now do an offline update to Debian 10. This happens during the upgrade to Login Enterprise 4.7.6.
The update process is similar to the default update from iso process as described on a different page. The only difference is that after the Important notice you are shown a different message that explains the importance of the Debian upgrade.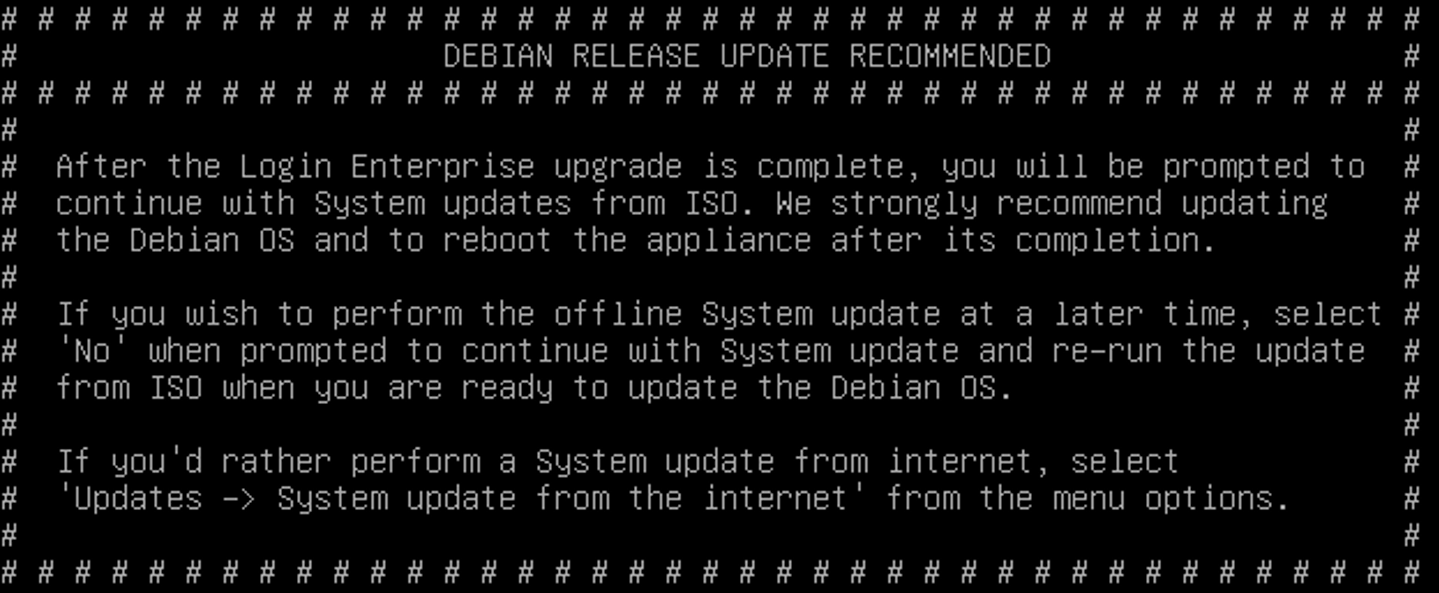 When you see the message the installation for Login Enterprise 4.7.6 has already started. Once the update for Login Enterprise is completed you are asked if you wish to update to Debian 10.

If you select yes the system update will start. If you select no then the update process will be stopped and you can return to the main page. If you selected no and still want to offline update simply repeat the update process as described in this article.
If you have selected to update Debian and it the update has been completed you are asked to reboot the appliance.

After the reboot you can verify your debian version by logging in to the console and opening the bash-shell from the troubleshooting section. On this page simply type lsb_release -a. It should show you the new version of debian.