When you successfully (or unsuccessfully) completed an Application Test you can start looking at the results. To do this you can click on "Application Testing Results" on the Login Enterprise homepage.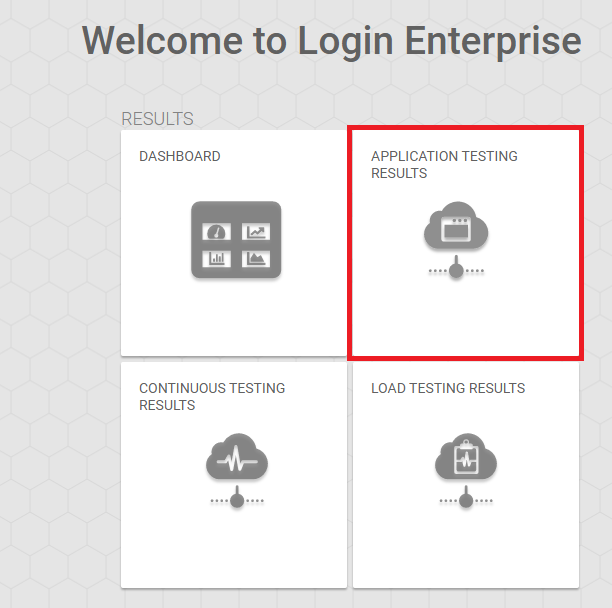 In Login Enterprise 5.3 or newer, you can use the improved Sidebar menu to drill into Application Testing.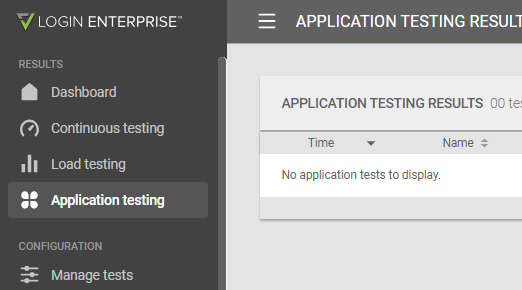 Once clicked you are presented with a list of previously executed Application Tests. There are a few columns that present different information.
Time

Shows the date/time of the test

Name

Shows the name of the test, and sequence number of said test

App. Failures

Shows how many applications ended with a failure in relation to the total number of applications tested.

App. Perf.

Shows how many measurements were out of bounds to what it has been configured. The number on the right shows the number of measurements configured

Comment

Shows the configured comment of the test
The last two icons are:
Download report as PDF
Delete test result

To give you a small summary of the test you can click on the Arrow button on the side of each test result and the test result will expand.
When you expand the test result you are shown the following items:
Configured configuration and duration (on the left)
Actions and events (on the left)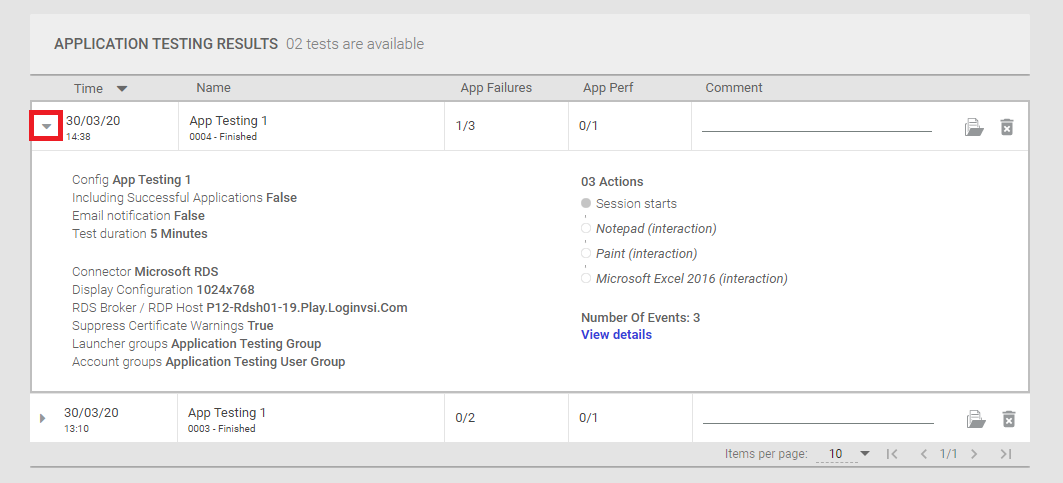 View Details
As you can see in the example you can view the details of the 3 events that took place during the test. Clicking on it brings up a popup that shows the details and gives you the option to deep dive in to it more.

As you can see there, with the application errors you can click to expand or click on the download button to download the log file, or you can click the camera to open the screenshot, if applicable.
PDF file
If you download the PDF file, (or open via the email report), you can open it. You are presented with a report that contains the following items:
Test summary

Shows the application succes and performance

Platform summary

Shows the performance summary of the measurements done

Configuration

Shows the configuration of the executed test

Application summary

List of executed applications, and which went fine and which did not

Applications in more detail

The applications are set out to provide more detail. It shows the measurements done in each application and if they are within the defined thresholds. If something went wrong the screenshot is also added to it.
Attached to this article, at the bottom of the page, you can find a PDF file attached of an example Application Testing report.
Email report
Once the Application test has finished, and you have configured the email setting, you are sent an Email with the notification of the test that was run and the PDF report attached.