With the release of Login PI 3.6 we have added the support to configure an External SQL database to store the information instead of using the default virtual appliance database.
IMPORTANT NOTE: Before we begin there are a few things we need to know / do:
You can only move to an External SQL Database and not back. To go back to an internal database you will need to re-install Login PI 3 completely and lose all data in the process
When moving to an External SQL Database will delete all existing data that has been collected until that time
Please create a snapshot before starting the migration to eliminate to possibility of permanently losing data.
You need to create a database for Login PI yourself, the account should be DBO.
It is recommended to create a specific database service user for the Login PI 3 database, this must be a SQL user and not AD user.
We support SQL Server 2012R2, SQL Server 2014 and SQL Server 2016
Configuration
To configure the External SQL Database we will need to go to the system page of Login PI 3:
Once the page is opened click on the "Database Configuration" tab.

You are presented with list of items we need to configure in order to get things working;
Database server hostname - hostname / IP / FQDN of SQL server
Database server port number - Port number used to communicate to the SQL server
Database Instance name - The name of the preferred instance for the database configuration
Database name - The name of the created database
Username - The username of the preferred SQL user
Password - The password of the SQL user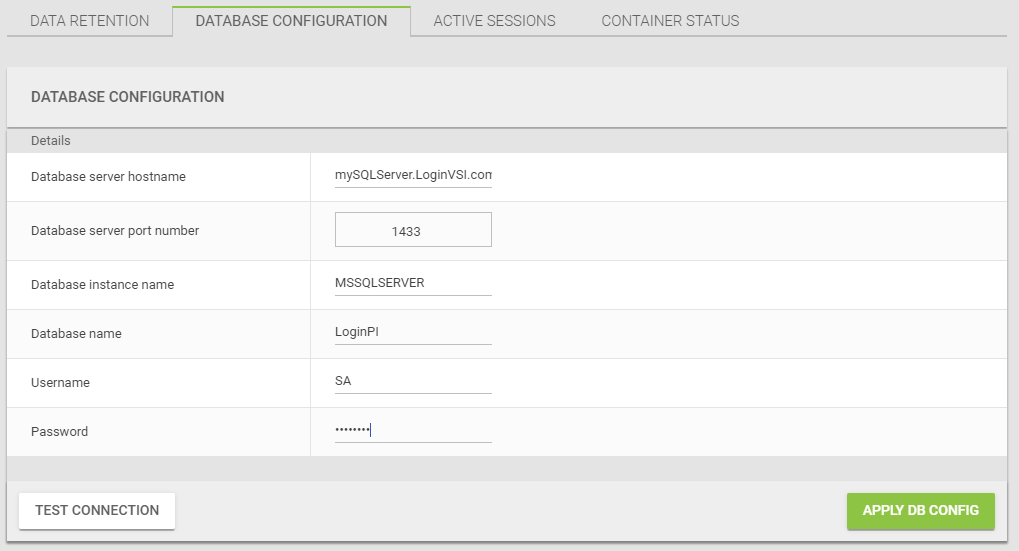 Once configured you can test the connection and save the DB configuration.