This section lets you set notification triggers for logins, applications (in seconds) and global notifications, so you receive an alert if any exceed the threshold.
Environment notifications
Click the Add new notification button
Select one of the default Apps from the Application drop-down list
Now select App start time, or any available measurement in the Measurement drop-down list
Enter the numeric value in seconds to the Threshold field (decimals are supported too, e.g., 0.5 seconds. 0.5 seconds is the same as 500 ms)
Click Save
You will now see the App added underneath (the enable switch is on by default)
If Email Alerting is enabled you will be given the opportunity to setup optional parameters for email triggers.

As shown in the screenshot, you can configure to receive an email when a measurement is exceeded a specific number of times, and after a specified number of minutes. Please note that the email alerting options will only show up when you have enabled the email alerting option.



The email will look something like this:
In the title it states which environment and what went over the threshold. In the email you can find what threshold it exceeded (that which you have configured). It also states the environment, threshold time measured and the last measurement, with a percentage over threshold remark.
Global notifications
There are also global notifications that can notify you of scenario's like Accounts that are disabled or Launchers that go offline. To configure these you need to go to the External Notifications section of the Login PI 3 web interface.
When opened you can see the Global Notification settings. Scrolling down you can see the Global notifications settings: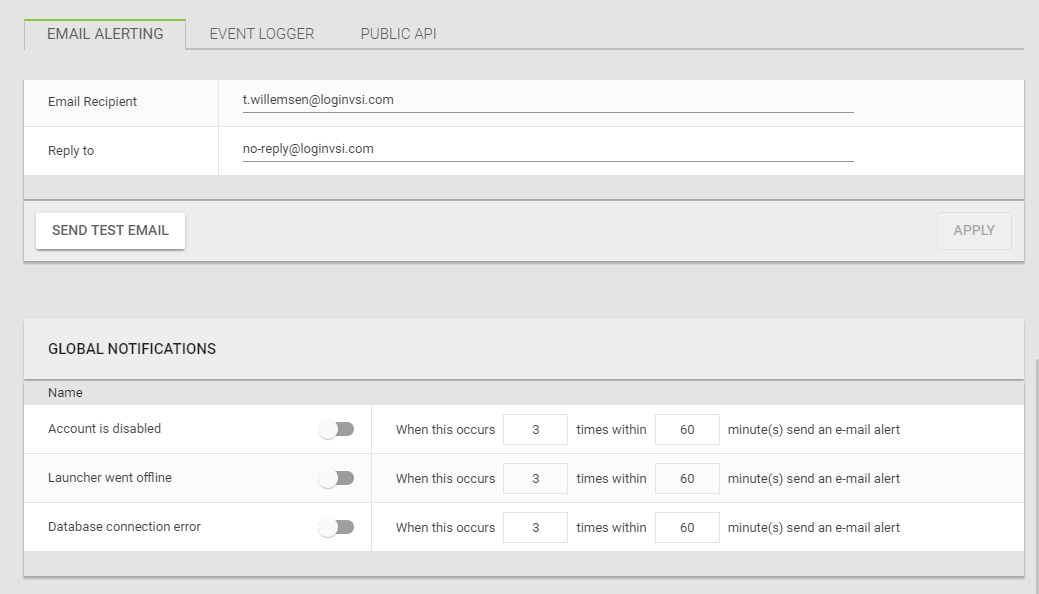 Here you can configure the different settings:
Account is disabled - when an user account is used but is unable to become active, and this happens x times within x minutes it will send an email notification.
Launcher went offline - when a launcher fails to report will be marked as offline, if this happens more than x times within x minutes it will send an email notification.
Database connection error - when the database connection fails more than x times within x minutes it will send an email notification.
Email Cool-down
There is a cool-down after sending each e-mail which makes sure we don't keep spamming e-mail recipients.
The cool-down is:
identical to the timeframe configured. So 60 minutes in the example in the previous image.
Minimum 10 minutes
Maximum 1 hour