Note: this isn't an officially-supported resolution, and is offered as-is for ease-of-use 
Symptoms
Using rdpconnect connector is yielding an error regarding "An authentication error has occurred." Which looks like this screenshot: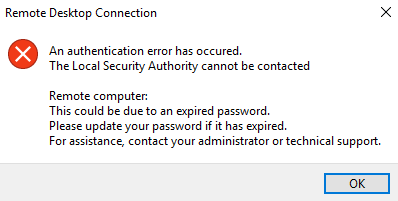 Also, when manually using RDP to connect to the target via MSTSC, this security prompt is yielded:
Cause
The setting named "EnableSecureCredentialPrompting" is enabled. It can be located locally in the registry at: HKEY_LOCAL_MACHINE\SOFTWARE\Microsoft\Windows\CurrentVersion\Policies\CredUI 
Resolution
The registry path can have the hex value changed from 1 to 0.
Properties
Applies to
Windows Server 2008 to 2016
Login VSI 4.x
See also